About Us
Do you love Chicken, if so then Wing Street is just the place for you, with lots of chicken dishes to choose from you, can't go wrong and with the help of Just Eat you can order your chicken and pay for it online with a delivery time to suit you. Then after you have eaten, we would love to hear what you think of our food and service by leaving feedback on the JUST EAT Site.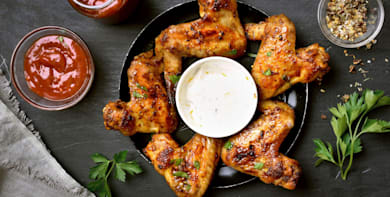 Reviews
JDK
"The phone was a bit muffled and the food was a little cold only a tiny bit but overall very good :)"
23/09/2022
Maria
"Great take away and the food is exceptional. Good quality, great selection and very good sized portions."
15/09/2022
Evelin
"Perfect!"
14/09/2022
Adam
"The order was very fast"
10/09/2022
Menu
Contact Us
Find Us
68 Mounttown Lower, Dublin, MONKSTOWN
Opening Hours
Please note, delivery times may vary.
We deliver to
Ballybrack, Ballybrack (Dublin), Blackrock, Blackrockbooterstown, Blackrockcarysfort, Blackrockcentral, Blackrockmonkstown, Blackrocknewpark, Blackrockseapoint, Blackrockstradbrook, Blackrocktemplehill, Blackrockwilliamstown, Booterstown, Brennanstown Road, Cabinteely, Cabinteelygranitefield, Cabinteelykilbogget, Cabinteelyloughlinstown, Cabinteelypottery, Carrickmines, Cherrywood, Cornelscourt, Dalkey, Dalkey Hill, Dalkey Upper, Dalkeyavondale, Dalkeybullock, Dalkeycoliemore, Deansgrange, Dun Laoghaire, Dun Laoghaire Sallynoggin, Dun Laoghaireeast Central, Dun Laoghaireglasthule, Dun Laoghaireglenageary, Dun Laoghairemonkstown Farm, Dun Laoghairemount Town, Dun Laoghairesalthill, Dun Laoghairesandycove, Dun Laoghairewest Central, Dundrum, Dundrumbalally, Foxrock, Foxrockbeechpark, Foxrockcarrickmines, Foxrockdeansgrange, Foxrocktorquay, Galloping Green, Glasthule, Glenageary, Glencullen, Johnstown (Dublin), Kill Of The Grange, Killiney, Kilmacud, Kilternan, Leopardstown, Loughlinstown, Monkstown, Mount Merrion, Roseville, Sallynoggin, Sandycove, Sandyford, Shankill, Shankillrathsallagh, Stepaside, Stillorgan, Stillorgandeerpark, Stillorgankilmacud, Stillorganleopardstown, Stillorganmerville, Stillorganmount Merrion, Stillorganpriory, Ticknock