About Us
Do you love Chicken, if so then Wing Street is just the place for you, with lots of chicken dishes to choose from you, can't go wrong and with the help of Just Eat you can order your chicken and pay for it online with a delivery time to suit you. Then after you have eaten, we would love to hear w...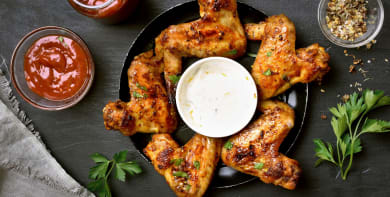 Reviews
"Recently have ordered after not doing so for a while because of a bad experience, since then have improved majorly and easily my favourite place to order from again."
"food was delivered fast and hot, ingredients were fresh and portions are worth the money , better than other places i've gotten off justeat"
"Love the wings and burger here and staff is great and quick to deliver. I like it they use the fresh preparation for every order."
"Very impressed by the food and service. I've never seen chicken tenders so big . I tried the Buffalo-boneless wings really good 👏🏽 Found the Portions very generous. First time and I'll be back …."
"It was worth waiting for, my wife said it was the best burger she's ever had so thank you, will definitely order again"
"The best burger ever, warm, tasty and juicy."
Find Us
Dublin
68 Mounttown Lower, Dublin, MONKSTOWN
Opening Hours
| | |
| --- | --- |
| Monday | 12:30 - 22:30 |
| Tuesday | 12:30 - 22:30 |
| Wednesday | 12:30 - 22:30 |
| Thursday | 12:30 - 22:30 |
| Friday | 12:30 - 22:30 |
| Saturday | 12:30 - 22:30 |
| Sunday | 12:30 - 22:30 |
Delivery times may vary
We deliver to:
Ballybrack, Ballybrack (Dublin), Blackrock, Blackrockbooterstown, Blackrockcarysfort, Blackrockcentral, Blackrockmonkstown, Blackrocknewpark, Blackrockseapoint, Blackrockstradbrook, Blackrocktemplehill, Blackrockwilliamstown, Booterstown, Brennanstown Road, Cabinteely, Cabinteelygranitefield, Cabinteelykilbogget, Cabinteelyloughlinstown, Cabinteelypottery, Carrickmines, Cherrywood, Cornelscourt, Dalkey, Dalkey Hill, Dalkey Upper, Dalkeyavondale, Dalkeybullock, Dalkeycoliemore, Deansgrange, Dun Laoghaire, Dun Laoghaire Sallynoggin, Dun Laoghaireeast Central, Dun Laoghaireglasthule, Dun Laoghaireglenageary, Dun Laoghairemonkstown Farm, Dun Laoghairemount Town, Dun Laoghairesalthill, Dun Laoghairesandycove, Dun Laoghairewest Central, Dundrum, Dundrumbalally, Foxrock, Foxrockbeechpark, Foxrockcarrickmines, Foxrockdeansgrange, Foxrocktorquay, Galloping Green, Glasthule, Glenageary, Glencullen, Johnstown (Dublin), Kill Of The Grange, Killiney, Kilmacud, Kilternan, Leopardstown, Loughlinstown, Monkstown, Mount Merrion, Roseville, Sallynoggin, Sandycove, Sandyford, Shankill, Shankillrathsallagh, Stepaside, Stillorgan, Stillorgandeerpark, Stillorgankilmacud, Stillorganleopardstown, Stillorganmerville, Stillorganmount Merrion, Stillorganpriory, Ticknock